You are here: Home » First Time » Virginators: College Buddies Quest Ch. 02
Virginators: College Buddies Quest Ch. 02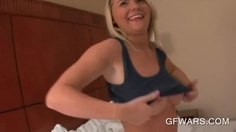 I moved my cock between her ass cheeks and she quivered. "Please, still use a condom," she whispered to me.

"Come on," I whispered back. "Just let me fuck you for a few seconds with out it." I pressed my cock further between her cheeks, feeling a bit of moisture on my head when I opened her sore pussy lips with the tip of my cock.

She groaned as she felt the skin on her pussy and she leaned forward, giving away to her lust for my cock again. "Only for a few thrusts, though. Please?"

I nodded and held her hips as I moved my body forward, entering her in a swift movement. My cock quickly pushed inside her, moving her walls apart and rolling across her g-spot. She sighed very loudly and moaned as I then withdrew my cock and then shoved it back in.

She squealed as I pushed it as far as it would go inside her tightness and then pulled out, and then shoved it back in. Her sore walls clamped shut around my erection and I knew she was feeling the pain and tightness as my cock opened her up.

I leaned forward and licked the back of her ears. She shook gently under my chest and I felt her ass cheeks against my lower stomach. "I was hoping the other guys would have been bigger, baby," I whispered in her ear. "I was wanting them to open you up so this wouldn't hurt." I pulled out and pushed back in before her pussy could try to close. Her body jolted forward and I pressed her harder against the table.

She moaned and laid down, her face against the soft material. She grabbed it between her outstretched fingers and huffed and gasped as I kept pulling my dick in and out of pussy. She groaned that she didn't know what was happening, that it hurt and felt good at the same time.

"You ever cum before, Sierra?" I asked in a rushed voice as I pulled in and out faster.

She moaned. "Yes, a few times when my clit was getting licked……but oh, god, it never felt like this!" she exclaimed. I pulled my cock out and she looked back at me. "What are you doing?" she asked.

"I'm putting on a condom like you wanted me to," I said as I reached for another wrapper.

She stopped me. "No, it's okay. I'll go to the clinic tomorrow. I don't want you to stop now!" I knew then that she was ready and I turned her around. I kissed her roughly as we moved around. I got onto the table and pulled her onto the table with me. I got her to straddle me, and I watched as she took my cock back into her pussy.

She arched her back and moaned as she began to ride my cock. She bounced up and down and I held her tits in my hands and licked her nipples quickly between my tongue and my lips. She gasped as she felt my hard cock press the deepest part of her pussy and held her against me, feeling my cock move around inside her with out her moving.

She moaned and I held her ass in my hands, thrusting in and out of her, feeling my balls slap her ass hole as my cock just pummeled her. She groaned and I knew I was stretching her to the breaking point as my cock was twisted around inside her. I pushed her up, making her arch her back and I moved my хэнд to her pussy, stroking her clit with my thumb.

"You wanna cum with me, Sierra?" I asked as she moved up and down on my erection. She nodded, her face growing red and her eyes closed tight. I watched as she kept moving up and down and then I felt as though my cock was swimming in a warm pool of juices. She gasped and moaned, still moving up and down on my cock as my thumb strummed against her hard clit. She kept gasping and I put my hands on her hips. "Baby, you need to touch yourself, I need both hands to fuck you now."

She didn't waste anytime and soon had her fingers on her clit. She moved them back and forth over the sensitive button and I held her hips tightly as I fucked her. I felt every inch of my meat slam into her and my balls were tightening up. They no longer slapped her ass and I knew I was ready to explode. "Come on, Sierra….come on baby," I said in a rushed whisper. "Tell me when you wanna cum with me!" I felt like melted wax underneath her, her body was a lovely site and when she began to cum again, I felt my cock explode inside her.

"Yes!" she moaned. "Yes, now!"

I held her tightly in my hands and moved quickly in and out of her wet pussy. Our juices met deep inside her pussy and oozed out around my cock, dripping onto the table cloth, fully soaking my balls and ass.

Her body buckled as she finished cumming and she fell forward on top of me. I kept my arms wrapped around her and held her close to me, feeling her rapid breath on my neck. She felt so good against my skin and I loved feeling her pussy lightly grasp my cock over and over, sending little shock waves through my cock and sending out signals of pleasure through my body.

I held her head in my hands and kissed her, she kissed me back and when we were both out of breath from kissing, we broke off the kiss and decided it was time to call it a night.

I helped her with her bra and put her coat on and walked her to the car. Her guard was still in the car, saying she'd been running the engine for some time. "Sorry," Sierra said getting in. "I had to use the bathroom." She smiled back at me, and I moved away from the car. They drove off.

The last I saw her was at graduation the next week. She hugged me and we posed for a few pictures that her parents were taking and I hugged and said my good byes. I received an email a few weeks later from her. She gave me a progress report, she wasn't pregnant with my child, but was engaged to a man from work who she'd told was her first. In the email was an attachment with a picture of the two of us, I printed it and framed it on our wall in the basement of frat house.

She was great addition to our wall, and we still wish her the best.

(More to come….)

Make sure you vote!!

– – – – – – – – – – – – – – – – – – – – – – – – –

PS Just to let you know, I am basing much of my stories on what some of my readers have told me of how their first time was. If you would like to tell me how you lost your virginity and would like to see it in one of the stories on my Virginators series, please write me.

I also gladly accept any feedback from anyone.
---